General and Preventive Dentistry for the Simsbury area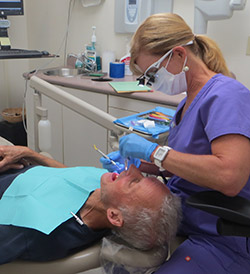 If we do our job right – you may never need a crown or root canal. Our goal is to stop common dental problems before they start. We do this by encouraging our patients to attend regular exams and cleanings. These small measures can go a long way for the future of your – and your family's – dental health.
Preventing tooth decay and dental caries (also known as cavities) is at the heart of everything Dr. Williams does. Most dental problems can be avoided with pro-active care. Dr. Williams offers a range of services that protect and strengthen smiles for entire families. For example, an athletic mouthguard eliminates the chance of tooth loss on the playing field. Another great preventive treatment, a nightguard can deter problems like tooth sensitivity, cracked teeth, worn-down teeth, tooth loss, and more. It's easy to see why visiting Dr. Williams regularly results in a future with less time spent in the dental chair!
Our preventive services include:
Exams & Professional Hygiene
Children's Dentistry
Fluoride & Dental Sealants
Nightguards for Bruxism
Athletic Mouthguards
Learn more about these pressing oral-health issues:
Located on the main thoroughfare of Simsbury's town center district, we offer a wide range of hours to give you the convenient care your busy schedule requires. We love seeing new patients! Contact us at (860) 658-7833.