About the Office
New Patient Visits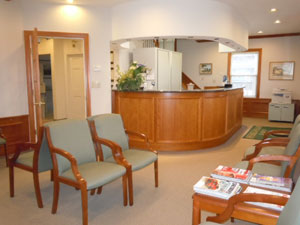 New patients receive a thorough, comprehensive exam. This will include an oral cancer screening, tooth-by-tooth inspection, periodontal inspection, bite analysis, complete digital X-rays, and cleaning. Dr. Williams will gather all the technical information needed to make an accurate assessment of your oral health. He will discuss any concerns both you and he may have, as well as short and long term health goals.
The following dental technologies are used for precise and effective diagnosis and treatment:
Digital X-rays
Intraoral Camera
DIAGNOdent Laser Cavity Detection
Soft- and Hard-Tissue Lasers
Insurance & Financing
Dental care is typically underwritten by some form of insurance coverage. Please note, if in doubt with coverage or claims, we encourage individuals to call our office manager so we can assist. Dr. Williams' office accepts most insurances and coverage for out-of-network is submitted for patients. In addition to the various plans we participate in, we also accept cash, check, and credit card (Discover, Visa, MasterCard). We also accept monthly payment plans through CareCredit. The largest provider of health-related financing, CareCredit offers no-interest and low-interest plans, as well as online applications with immediate responses. The staff will help guide your family through the various options for payment.
Our office hours offer early and late options for the busy work and family lives of our patients. You may reach the office at (860) 658-7833.